Sunry Petroleum shines again
The largest Sunry well testing equipment is on the way to an Algeria oilfield cooperated by PTTEP, Sonatrach and CNOOC.
The largest well testing equipment Slug Catcher designed by Sunry has departed in a hard period of manufacturing. It will stand in the Sahara Desert with a majestic and heroic posture, like a dazzling pearl in the vast desert!

This Slug Catcher will be installed at oilfield site HBR blocks about 129 km to the east of Hassi Messaoud base in Algeria, which was developed and cooperated by PTTEP, Sonatrach, and CNOOC.
Unfortunately, after starting the project in Nov 2019, Sunry suffered a global pandemic disaster caused by COVID-19. The valves, instruments and the cables designated by end user is top brands in the world, which manufactured by EU or US where are suffering the epidemic heavily. Sunry has overcome those incredible troubles, endured the huge increased prime cost. The quality of equipment is still guaranteed even though Sunry has a deficit. Almost every component and main parts during the produce are approved by Third Party Inspection companies like DNV and SGS.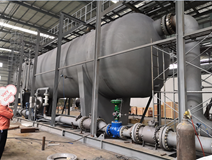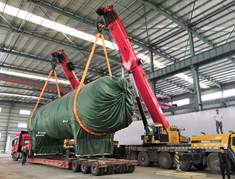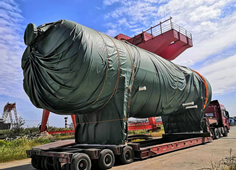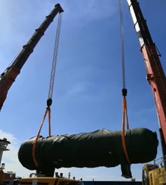 The Slug Catcher is required to achieve the local and remote automatic control, Sunry developed software to run on Siemens HMI and CCR, Friendly interface of HMI is touching smoothly and operation easily, which is recognized by experts, they think the slug catcher is the most advanced among the same type of equipment in domestic and overseas.
After finishing the project in Jun 2021, the delivery has failed or delayed for several times due to the huge increased shipment cost caused by the block up during ocean freight. But it finally shipped smoothly this time!
The slug catcher is overheavy and oversize of equipment, total weight is 200 tons, only pressure vessel is 140tons, it needs two 300tons crane for lifting.

We appreciated all the effort made by our colleagues. Thanks a lot for the professional support provided by our partners and shipping companies.
Sunry Petro is experienced and credible, never yields in spite of reverses. We will go further and more stable in the future.